We are passionate about providing the best price for high quality Jewelry with outstanding service. Here at Sarraf.com, we believe that the best way to build a long-lasting relationship with our customers is by treating each and every one exactly as we would treat a member of our own family.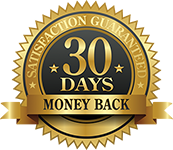 If for any reason you aren't satisfied, you can return any non-engraved item in its original condition for a refund or exchange. If you have any questions about our return procedure, please don't hesitate to contact us or call our 888-472-7723.
Sarraf.com guarantees that our prices are the lowest anywhere online. You'll know you're receiving the best deals available on thousands of quality products. And if you happen to find a better online price out there, and meet the qualifications listed below, we'll give you the difference in store credit on any future purchases at Sarraf.com. contact us or call our 888-472-7723.
To satisfy the Best Price Guarantee credit:
The product must be the exact same make, model, and color purchased from Sarraf.com
The merchant offering the lower price must have the product currently in stock
The online merchant must be an established site, as determined by Sarraf.com
To satisfy the Best Price Guarantee credit:
Total price of purchase including shipping, taxes and other charges that may apply
Claims made within 10 days from purchase date
Competing website item must be new merchandise versus factory-reconditioned or previously owned
Competing website item must be the same (metal type,size, model number, gram weight, diamond carat-weight/cut/color/clarity, etc.)
Not valid for auction and liquidation web sites
Competing website must offer same warranty & return policy as we do