Posted on 1st May 2012 @ 1:56 PM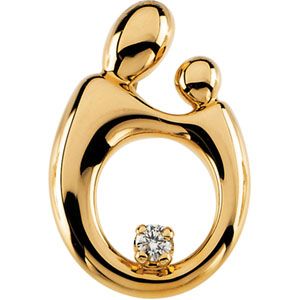 People all around the world celebrate Mothers Day every year in honor of the many women who have given birth to children over the decades. Generally this is a good excuse to find a special gift for your mother or grandmother, and at the same time shower these special women with love and attention.
Mothers Day falls on May 13 this year, so now's the time to start planning something memorable for the mother in your life. Perhaps you are going to spend the day together; or if you live in different towns or cities, or even in different countries, Mothers Day might be the perfect time to Skype or phone one another. If you live with your mother then breakfast in bed is an obvious idea. Fresh flowers too are always welcome.
But if you want to give your mother something to treasure why not buy her an item of gold jewelry?
Jewelry is very personal, but no doubt you have a good idea of what your mother likes and enjoys wearing. This could be anything from a chunky gold bracelet to a fine chain necklace, perhaps with a pendant that suits the style of clothing she normally wears. Gold earrings are another option, and there are some stunning styles to choose from, particularly if she has pierced ears. Gold rings are a little more difficult, largely because of sizing. But it's not really difficult to find something special that your mother will appreciate and enjoy wearing.
Chunky chains and necklaces probably top the list of appropriate jewelry gift options for Mothers Day, because of the plethora of styles and range of prices. Gold chains are available in different karat qualities, including popular 14K and 18K, and in different colors – yellow, white and rose being favorites. If you don't want, or can't afford, a gold necklace for your mother, there are also stunning sterling silver chains guaranteed to make her day.
To see our special mother's day selection click here