Posted on 17th Jan 2012 @ 11:22 AM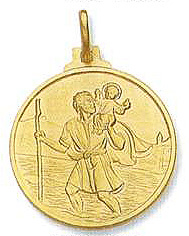 The most popular history of Saint Christopher is as the patron saint of travel. For centuries, people journeying away from home have worn or carried St. Christopher medals, and Sarraf Jewelry carries gold medals with images of the patron saint that can be worn on gold chains.
This title comes from a book of tales from the 13th century, the Golden Legend. St. Christopher is described as a wandering adventurer of great size and strength, in search of 'the greatest king of all' in order to serve that king. A hermit suggests he serve by helping travelers across a nearby raging river. One day a small child asked if he would help him cross. St. Christopher lifted the child up on his shoulders and started out. The river became more turbulent and the child became heavier with each step. When they reached the far shore he learned that the child, according to the legend, was Christ, carrying the weight of the whole world. This made Christopher patron saint of travelers.
It is believed St. Christopher also provides protection from storms, so he is patron saint of mariners, sailors, boaters, surfers and fishermen, too.
Catholics in Europe began the tradition of displaying a picture or statue of St. Christopher in the belief that he would protect them from ailments, illness and danger. This tradition is observed worldwide to this day. In England, there are more wall paintings of St. Christopher than of any other saint.
St. Christopher medals are generally worn on gold chains or gold necklaces by travelers and now by surfers, a trend that started in the 1960s. Small statues are still frequently displayed in automobiles, taxi cabs, and on motorcycles.
Sarraf Jewelry has St. Christopher medals and as well as other faith-based pendants. Visit Sarraf.com, your online jewery store, to view our entire collection.