Posted on 3rd Jan 2012 @ 11:19 AM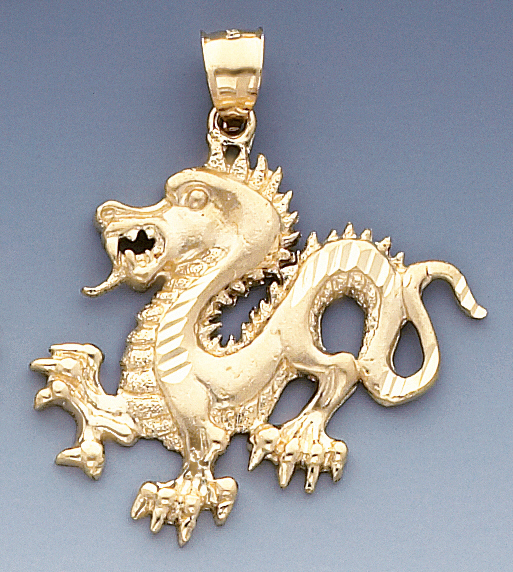 Good news for anyone having a child after Jan. 23. The day begins the Chinese New Year and this year it is the Year of the Dragon.
A gold dragon pendant on a gold chain would make an excellent gift for a person born in the Year of the Dragon and Sarraf.com has a wide selection from which to choose.
The Dragon is the mightiest of the Chinese Zodiac signs, and it symbolizes dominance and ambition as character traits. Dragons live by their own rules and are usually successful in life. They aren't afraid to face challenges and are risk takers.
We don't know if Jean Claude Van Damme is a Dragon, but the characters he plays sure do seem like it. Dragons often help others, but won't ask for help. A Dragon's personality attracts others, but they prefer to be left alone. That's because they work alone and that is when they have their most success. Their lone wolf attitude can come across as arrogance, but they aren't really. They do have hot tempers, though.
For a child born after Jan. 23, 2012, Sarraf.com has the perfect gift – a 14K yellow gold dragon pendant or sterling silver dragon pendant. Until Jan. 23, the Year of the Rabbit continues.
There also are adult dragons born in the years 1916, 1928, 1940, 1952, 1964, 1976, 1988 and 2000, who would love to get the gift of a sterling silver dragon pendant on a sterling silver chain. It would symbolize that they were born as free spirits and are carving out their own path through life.
Sarraf.com also has pendants for the Zodiac signs of the west, from Capricorn to Sagittarius. For all the jewelry you can imagine or see in the stars, visit the online catalog of Sarraf.com.