Posted on 30th Dec 2011 @ 11:25 AM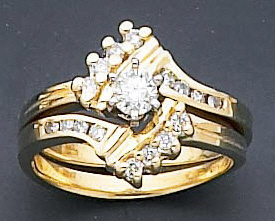 Buying a diamond ring is an extremely important event in anyone's life, and understanding more about diamonds is crucial to making the right choice.
The price of a diamond is impacted heavily by the quality of the diamond. If a diamond ring seems to be really cheap, that means the quality probably isn't very good.
The average diamond engagement ring purchased by consumers is about $3,250, according to the Jewelry Industry Research Institute. The average for all diamond rings is $1,050. That should give you an idea of what you might expect to pay for a diamond, but here are more details.
The Diamond Buying Guide has estimates for diamond ring costs, but keep in mind with the price of gold going up, the cost of a ring could be higher than these estimates.
The least you can expect to pay, according to the guide, is $125 to $500, but you won't really be able to know for sure about the quality because the diamond won't be certified by one of the gemological groups.
At $500 to $750 you can bet the carat weight will be larger, but the quality still won't be certified.
It is at the $750 to $1,000 range where you start really getting value for your purchase, according to the guide. You'll notice rings in this price range usually are in 14K gold or 18K gold settings.
From $1,000 to $2,000 you should start getting into higher quality diamonds that could appreciate in value. The diamonds are certified and the weights will be between .30 and .75. Again, they'll be in 14K or 18K settings.
Anything above $2,000 should have extremely high quality, but the guide actually recommends smaller carat weights because the larger stones could have a lower-grade cut or low color quality.
At Sarraf.com, because of our aggressive pricing, we offer diamond rings at the lower end of the price range. But we also stand behind the quality of all of our diamonds and promise you are getting the best quality possible at the price.
For a wide selection of diamond jewelry, check out our online catalog at Sarraf.com.