Posted on 12th Dec 2011 @ 12:35 PM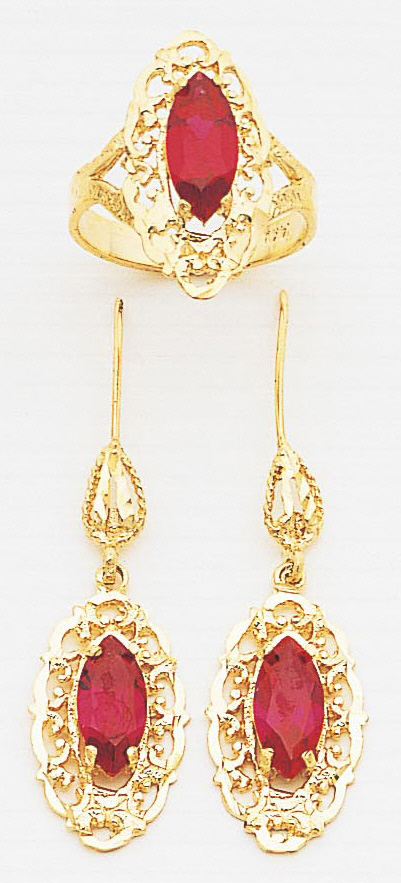 The dominant colors of the holiday season are traditionally red and green, so it helps to have plenty of red and green gold jewelry to complement your holiday outfits.
A gorgeous gold earrings and ring set with red or green gems from Sarraf.com would make a beautiful accompaniment to your formal or casual holiday outfits.
But just how did red and green become the traditional colors of the Christmas holiday? It wasn't from Santa's red suit or the elves green outfits. It is actually a Christian tradition dating back to the 15th century.
The plays originated in Germany and originally were written in Latin. Easter plays were very popular, so more plays were done about the different periods of Christ's life. Passion plays were used to teach peasants biblical lessons of everything from Adam and Eve to Christ's birth and death. Paradise trees used in the plays were often pine trees decorated with red apples. Pine trees could be used for the plays year-round. Thus the colors of red, signifying Christ's blood that he shed on the cross, and green, signifying God's everlasting love, became the traditional colors.
There are other traditional holiday colors as well, all of which have to do with helping to remind Christians of the life of Christ. White is the liturgical color used by churches. It is sometimes substituted with silver. Yellow is for the light that is shown by God to lead mankind out of the darkness. Candles, tree lights and the Star of Bethlehem symbolize the yellow light.
Of course, in today's popular culture, red and green are dominant in many holiday stories. Again, it's most significantly displayed with Santa and his elves. But the colors also can be used in elegant jewelry designs that are very appealing.
To find more green and red gold jewelry and other precious pieces, shop the online catalog of Sarraf.com.