Posted on 6th Dec 2011 @ 2:52 PM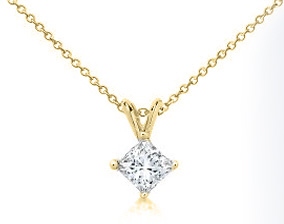 The simple, solitaire diamond necklace can say a lot about the person wearing it.
A no-nonsense person with her eyes focused straight ahead, the solitaire wearer does not waver in setting a course through life that is pure and true. Women who wear solitaire diamond necklaces don't want to hear a lot of malarkey. They want the job to get done.
Guys, if you've found a woman who would wear a diamond solitaire necklace, you had better step up your game. First, you must make sure you are buying her a diamond necklace of the highest quality possible with a chain of the best yellow or white gold you can find. Fortunately Sarraf.com is here to help with an extremely nice selection of solitaire diamond necklaces.
Sarraf.com has round, princess cut and Bezel sets of solitaire diamond necklaces in a price range that will keep you from becoming weak financially. You don't want to appear weak, financially or otherwise, to the wearer of solitaire diamond necklace.
For beautiful solitaire diamond necklaces, visit Sarraf.com. Don't forget to check out our holiday specials.
We also have a $1,000 shopping spree sweepstakes between now and Christmas Day. Just go to our Facebook page and sign up.
For all your jewelry needs during the holidays and year-round, you can depend on Sarraf.com.