Posted on 14th Nov 2011 @ 2:03 PM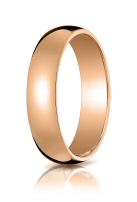 One of the hot trends in jewelry for fall 2011 is rose gold jewelry in a wide variety of styles.
Link chains and wedding bands, both available at Sarraf.com, are a popular choice for jewelry buyers. Rose gold is available in a wider price range to fit more budgets, allowing more people to get in on the hot trend.
Rose gold is a gold and copper alloy, usually half gold and half copper. The highest karat of rose gold, which is known as crown gold, is 22 karat. There also is 18 karat rose gold that is 75 percent gold and 25 percent copper. Usually coming from the Middle East, 14k rose gold contains about 42 percent copper.
On a side note, if you want your rose gold jewelry to really stand out, you can pair it with a rose gold flute. Of course, you'll have to learn how to play a flute, but that is what's used for a lot of high-end musical instruments.
At Sarraf.com, we have traditional wedding bands in 14k rose gold from 2 mm wide to 10 mm. They come in custom fit, traditional domed or classic flat designs. With our free shipping, we can deliver excellent value to you quickly for your big day.
For our 14k rose gold chains, we have them styled in diamond cut rope, Franco, handmade, Singapore and Spiga's wheat design. We have lengths of chain ranging from 7 inches to 30 inches.
Besides rose gold, we have a huge selection of gold jewelry for many different tastes. At Sarraf.com, we are committed to becoming your online jewelry store of choice for many years to come.