Posted on 5th Oct 2011 @ 9:14 AM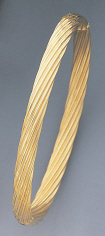 Have you noticed that someone, somewhere every season declares bangles are the season's fashion trend.
That, of course, makes us surmise that bangles are always trendy and we've got plenty for you to wear in the usual layers of bangles look on your wrist.
Here are some of the lines of bangles we offer at Sarraf.com.
Sterling silver cuff bangles ranging in price from $67 to $290.
14K yellow gold hinged bangles from $230 to $745.
14K yellow gold adjustable bangles from $410 to $1,404.
14K yellow gold baby bangles from $205 to $583.
14K yellow gold solid bangles from $230 to $444.
14K white gold solid bangles from $230 to $518.
14K white gold hinged hollow bangles from $359 to $826.
If you want to do some serious bangling, we have a 14K gold, fancy "s" style tennis bracelet with 6 karats of diamonds for $6,215.
From the red carpet and the catwalk to a nice, quiet gathering of friends, bangles are always in style and something you can easily thrown on your wrist whether you are wearing Vera Wang or Levis.
At Sarraf Jewelry, we have bangles and anything else you can think of to wear on your wrist in gold or sterling silver, and adorned with diamonds.