Posted on 9th Dec 2011 @ 9:52 AM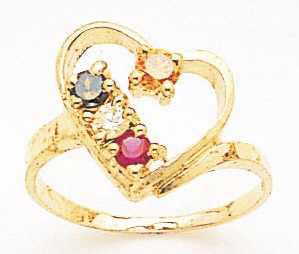 Mothers' Rings are extremely popular in May, but they also make terrific holiday gifts in December and will give mom something to remember the whole year through.
Sarraf.com has a wide variety of mothers' rings in its gold jewelry collection. The rings are designed in a number of styles and with several choices in number of stones.
A mother's ring has become a popular jewelry item, but hasn't been around that long. The first mother's ring was designed using two wedding bands joined by the birthstones of the children of a couple. It was trademarked in 1959.
There are variations on the design of mothers' rings, including have the birthstones of just the kids, the birthstone of mom and the kids or the birthstone of mom, dad and the kids. They also a great gift for a new mother or for a grandmother.
The mothers' rings offered by Sarraf.com are all in 14k yellow gold and are sold at incredibly discounted prices. For children who want to unite on mom's gift for Christmas, a mother's ring is a great way to do it.
For a mother's ring and many other items in a huge selection of gold jewelry, shop the online catalog of Sarraf.com.